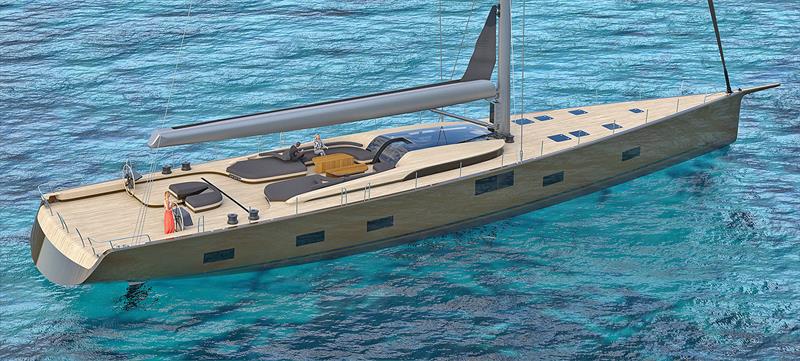 Danfoss Editron division to supply propulsion system for superyacht Baltic 110
Danfoss Editron division to supply propulsion system for superyacht Baltic 110
by Danfoss Editron Nov 26 10:15 UTC

Superyacht Baltic 110 © Danfoss Editron
Danfoss' Editron division has been commissioned by Baltic Yachts to supply all critical components of the hybrid power plant and propulsion system that will power the custom Baltic 110 superyacht. The vessel is expected to be delivered to her owner in 2023.
Danfoss's Editron DC network system is ideally suited for luxury sailing yachts due to its lightweight and compact design and the unmatched system security and redundancy it offers.
The Baltic 110 superyacht will generate significantly less emissions than a diesel model of a similar size, as the ship's electric propulsion generators and hotel power supply will be optimized.
The superyacht will be delivered to its owner in 2023, which coincides with the 50th anniversary of Baltic Yachts.
Measuring 110 feet, the Baltic 110 superyacht will feature a carbon composite hull and glass-optimized superstructure. The use of lightweight materials such as carbon composite to build the vessel limits the maximum weight of the power plant and propulsion system, so that the high levels of safety and performance demanded by end customers are not compromised. .
Danfoss' Editron division's lightweight and compact system will include two generators, propulsion motor inverters and converters, DC distribution components, short-circuit selectivity analysis and hotel transformers. It will also feature one of the company's own control systems to control the advanced distributed DC network system.
Atte Yrjola, Business Support Manager for Danfoss Editron Division, said:
"This is the fourth power plant and hybrid propulsion system that we will deliver for Baltic Yachts, demonstrating the successful working relationship we have established with the shipyard. Our system is the optimal choice for luxury yachts. such as the Baltic 110 by offering unparalleled security and system redundancy, as well as providing features such as hydro-regeneration in navigation. "
Danfoss generators, which use synchronous reluctance-assisted permanent magnet technology, will be mated to two Cummins diesel engines that meet IMO Tier 3 emissions regulations. The vessel will also be fitted with lithium-ion batteries to enable zero-emission operation.
Kim Kolam, Senior Electrical Design Engineer at Baltic Yachts, added:
"Our previous experience with Danfoss Editron's sophisticated system will be very helpful when designing the interior and exterior of our latest world-class custom superyacht. The lightweight system offers design freedom, while its easy and flexible installation allows for optimal weight distribution. "
The delivery of the Baltic 110 superyacht in 2023 will coincide with the 50th anniversary of Baltic Yachts. The company intends to hold a ship launch ceremony to celebrate this milestone.