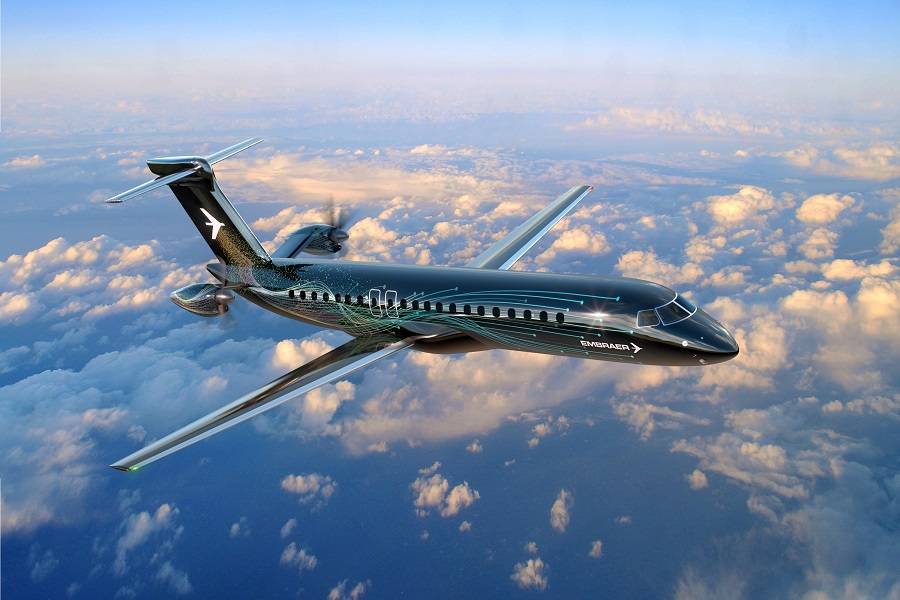 Embraer will soon select a turboprop partner
It still hasn't officially launched its turboprop, but Embraer is about to select the engine manufacturer for its next promising plane.
After Boeing and Airbus, Embraer is now the third largest aircraft manufacturer. It is also the only manufacturer among these three manufacturers which plans to introduce a new type of aircraft in the near future. And with the industry increasingly focusing on emissions, Embraer is planning a return to its turboprop airliner routes.
The manufacturer has been thinking about such an aircraft for some time. The Embraer EMB-110 Bandeirante turboprop with its twin-engine PT6A-34 engine was its first commercial aircraft. The pressurized EMB-120 Brasilia replaced it much later, also enjoying substantial success. But the manufacturer then focused on the faster jet aircraft that we know today.
In 2017, when Embraer started thinking about a new turboprop, its outlook was different. The manufacturer has not been profitable for several years. Interestingly, a pandemic-era demand for business jets gave the company a major revenue stream. This was just after Boeing finally canceled its plan to take over the company.
At the Farnborough Airshow, the Brazilian aircraft maker said it plans to select an engine manufacturer in the fourth quarter of this year. This will then allow Embraer and its engine partner to officially launch the turboprop aircraft project in mid-2023. As we have seen, the plane has a rather unusual configuration.
Embraer Turboprop – Unusual Engine Placement
Embraer sold many aircraft with rear-mounted engines. But they were turbofans, not turboprops. Embraer tries to combat the noise that many passengers associate with the turboprop. But it is not that simple. Embraer is also trying to create synergy with its longer-term projects, which could use hydrogen, hybrid-electric or battery-electric propulsion. It's still a new project, but uses a similar layout.
When Embraer first released artwork of its future turboprop, the engine nacelles and propellers were a bit… blurry. Initially, the manufacturer would have spoken to three engine manufacturers: Pratt & Whitney Canada, Rolls-Royce and General Electric. Embraer only has two options left since GE does not currently offer an engine.
Embraer claims to have letters of intent for "over 250" turboprop aircraft, from airlines around the world. The management of the company is convinced that there is a demand to support this project. Like Embraer, many feel there has been too little movement around turboprop aircraft, with also few (and old) engine options.
It will be interesting to see which engine manufacturer Embraer will choose for its turboprop. Aircraft like the ATR 42/72 and the Bombardier (now De Havilland) Dash-8, as well as older Embraer turboprops, used Pratt & Whitney Canada engines. Rolls-Royce also has a lot of experience with turboprops and turboshafts. But Embraer would like newer and more efficient engines for its project.
Source
Spyros Georgilidakis is a graduate in business and management. He has 14 years of experience in the hospitality and travel industries, as well as a passion for all things aviation and travel logistics. He is also an experienced writer and editor for online publications and a licensed professional drone pilot.