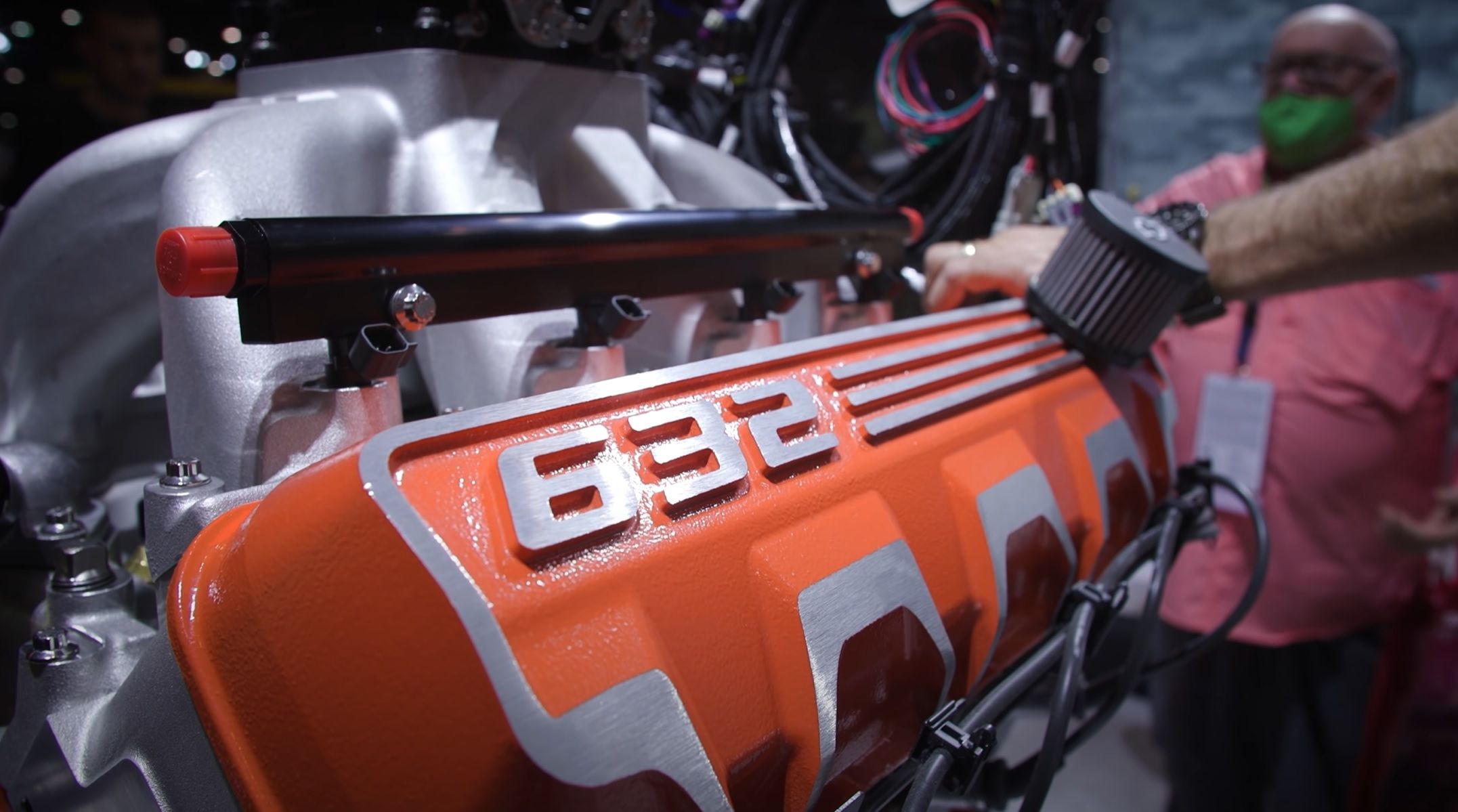 Everything you need to know about the 632 Crate Engine
The 2021 SEMA show was a blast for Chevrolet – that we know. The famous American brand has once again shown that it intends to follow and be ahead of the competition in its initiatives. At the end of October last year, Chevy crank out the biggest crate engine GM has ever built—the naturally aspirated 632-cubic-inch V8.
"It's the biggest, baddest crate engine we've ever built," said Russ O'Blenes, manager of GM's Performance and Racing Propulsion team, in Chevrolet's announcement. "The ZZ632 sits at the top of our unrivaled line of crate engines as the king of performance. It delivers incredible power, and it does it with gas at the pump.
If that's not exciting, we don't know what is! Chevrolet's 632 crate engine is already attracting all the attention of the automotive market. How powerful is this beast in a crate? Is it legal for public roads? What are the exact features and price?
So many questions but so little time for those who can't wait to try out this new Chevy engine. Don't worry, though. We answer these and other interesting questions in today's article.
RELATED: 1931 Ford First Releases Blue Oval's Most Powerful NA Modular Crate Engine
A Brief History of the Chevrolet Big Block Engine
What do you need to know about the Chevrolet big-block engine? First, the name represents a line of naturally aspirated and gasoline-powered large V8 engines. Second, they've been produced by the Chevrolet division of General Motors since the 1950s, so they're not that new at all.
In 1955, Chevrolet introduced a small-block V8 engine with a typical displacement of 262 to 400 cubic inches. However, a larger engine was needed to power heavier trucks and cars. The big block debuted in 1958 with a displacement of 348 cubic inches, which later grew to 494 and 500 cubic inches.
Before the birth of the big 632 crate engine, Chevrolet released the 572 cubic inch one in 1998. This one is still around, but now as the second most powerful Chevy crate engine. The 632 has taken all the fame in 2021, and for good reason. Let's see what it is in terms of power and performance.
RELATED: Chevrolet Unveils Its Biggest, Most Powerful Crate Engine Ever
Take a look at the specs of the 632 Crate engine
Chevrolet's new Big Block revs up to 6,600 rpm of peak power and maxes out at 7,000 rpm to justify its name. Eight-port injectors deliver fuel to the engine, and all intake and exhaust ports are the same length, volume, and layout. Identical port design ensures that all cylinders produce the same power.
The cylinder heads were given the name RS-X Symmetrical Port after engineer Rob Sperry. Working for more than fifty years for General Motors to help the brand design exceptional performance and racing engines, Rob Sperry has made an indelible mark on the company. In fact, he was the one who introduced balanced ports to the Small Block starting in 1997.
The 632 crate engine accommodates the longer stroke compared to the 572 to achieve the 632 cubic inch displacement. Therefore, the block and the connecting rods had to be modified. Engineers also made sure to design strong and durable main caps and rotating assembly.
Clad in all cast iron, the OHV-engineered engine cranks out all the monstrous displacement the old-fashioned way. No turbocharger, no supercharger, nothing. The Chevy V8 will burn the road with 1,004 horsepower and 876 lb-ft of torque on a 93-octane pump gas. Well, maybe it'll even cut the water if boat makers find a way to tune the 632 crate engine for marine applications. For now, it looks like the Chevy V8 will come in a muscle car first, but we'll have to wait and see for more details.
Conclusion with price and availability
So can you get the most powerful Chevrolet 632 crate engine? Yes. Will it cost you an arm and a leg? Yes too. Chevrolet introduced the Big Block V8 in late 2021, but plans to ship it in early 2022 at around $37,000. We know what you're thinking – even some Chevy SUVs don't start at this price. That's true, but to get the most powerful Chevrolet V8 to date, you'll have to shell out (almost) the price of a Colorado.
Will the 632 crate engine be worth all the money? We can't say. It all depends on how much you have to get the Big Block. If you've been saving up for a new vehicle, an engine update might not be such a good choice. But if you're thrilled with the Chevrolet V8 and want to upgrade your vehicle with it, why not? The Big Block won't disappoint you, that's for sure.
These are the most popular compact SUVs people buy used
A study looked at the best compact SUVs to buy on the used market in 2021. Here are the top four.
Read more
About the Author