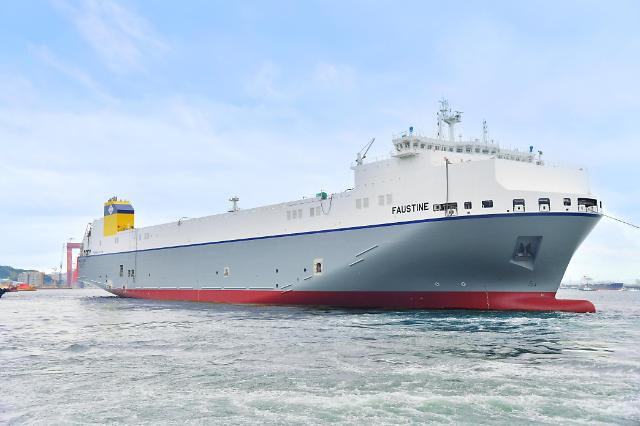 Hyundai Mipo Delivers CldN's RORO Vessel Equipped With Dual Fuel Propulsion System
SEOUL – Hyundai Mipo Dockyard, a subsidiary of the South Korean shipbuilding group Hyundai, delivered an environmentally friendly RORO freighter equipped with a dual fuel propulsion system to CldN, a multimodal logistics provider based in Luxembourg.
The roll-on & roll-off (RORO) cargo ship is designed to transport wheeled goods, such as cars, trucks, buses, trailers and railcars, which get on and off the ship on their own wheels or at using a platform. vehicle, such as a self-propelled modular transporter. RORO ships have built-in or ashore ramps or ferry slips that allow cargo to be efficiently routed on and off the ship to port.
Hyundai Mipo said the RORO vessel was equipped with a dual-fuel propulsion system capable of using either liquefied natural gas (LNG) or diesel. It was the first LNG-powered RORO ship built at South Korean shipyards. The vessel is 217 meters long and can sail at speeds of up to 17.6 knots with some 820 cars and 310 trailers on board on its seven-story deck.
With its dual fuel propulsion system that emits low sulfur oxide (SOx) emissions, Hyundai Mipo said RORO ships named "Faustine" can operate in Emission Control Areas (ECA) such as the 'Europe and North America. ECAs are maritime areas in which more stringent controls have been established to minimize air emissions from ships.
The ship's LNG tank was used with nine percent nickel steel which can maintain excellent strength and impact resistance even in cryogenic temperatures of -163 degrees Celsius, the shipbuilder said. A capacitor that supplies electricity using the rotational power of the main engine can minimize operating expenses and exhaust emissions.
"The demand for environmentally friendly vessels capable of creating high efficiency is increasing," an unnamed Hyundai Mipo official said in a statement on October 8. "We will do our best to ensure a more differentiated technological competitiveness based on various construction experiences related to LNG carriers."
© Aju Business Daily & www.ajunews.com Copyright: All material on this site may not be reproduced, distributed, transmitted, posted, published or broadcast without permission of Aju News Corporation.