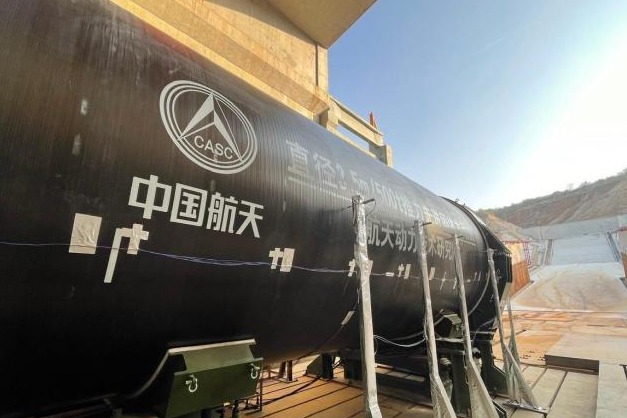 Ignition test for the latest roaring rocket engine success
China carried out the first ignition test of the world's most powerful solid propellant rocket engine, according to the Academy of Solid Propulsion Aerospace Technology in Xi'an, Shaanxi Province.
The academy, a subsidiary of state-owned space giant China Aerospace Science and Technology Corp, announced Tuesday afternoon that the test was successfully completed that morning.
With a diameter of 3.5 meters, the engine uses 150 tons of solid propellant to produce 500 tons of thrust power, making it the world's most powerful and fuel efficient integrated solid rocket engine. , he said in a statement, noting that the test took place at an engine testing facility in Xi'an.
Wang Jianru, the chief engine designer, said the engine incorporates a number of advanced technologies and high-performance composite materials and is of world-class capability.
"The success of the test means that we have made substantial progress in improving the capacity of our solid propellant carrier rockets. It also laid the foundation for our research and development of a 1000 ton thrust engine." he said, noting that the new engines are needed by China to build super-heavy rockets.
Researchers and engineers at the China Academy of Launch Vehicle Technology in Beijing, another subsidiary of CASC, design the Long March 9, a super heavy carrier rocket that will likely become one of the largest and most powerful launchers in the world .
The super-heavy rocket is expected to enter service around 2030. It will be 93 meters high and will have a takeoff weight of 4,140 tonnes and a thrust power of 5,760 tonnes. The diameter of its main stage will be around 10 meters, according to the designers of the academy.
The craft will be so powerful that it will be able to transport spacecraft with a combined weight of 140 tons to low earth orbit hundreds of kilometers above the ground, and will be able to deploy spacecraft weighing up to 'to 50 tons on an Earth. lunar transfer trajectory for lunar expeditions.