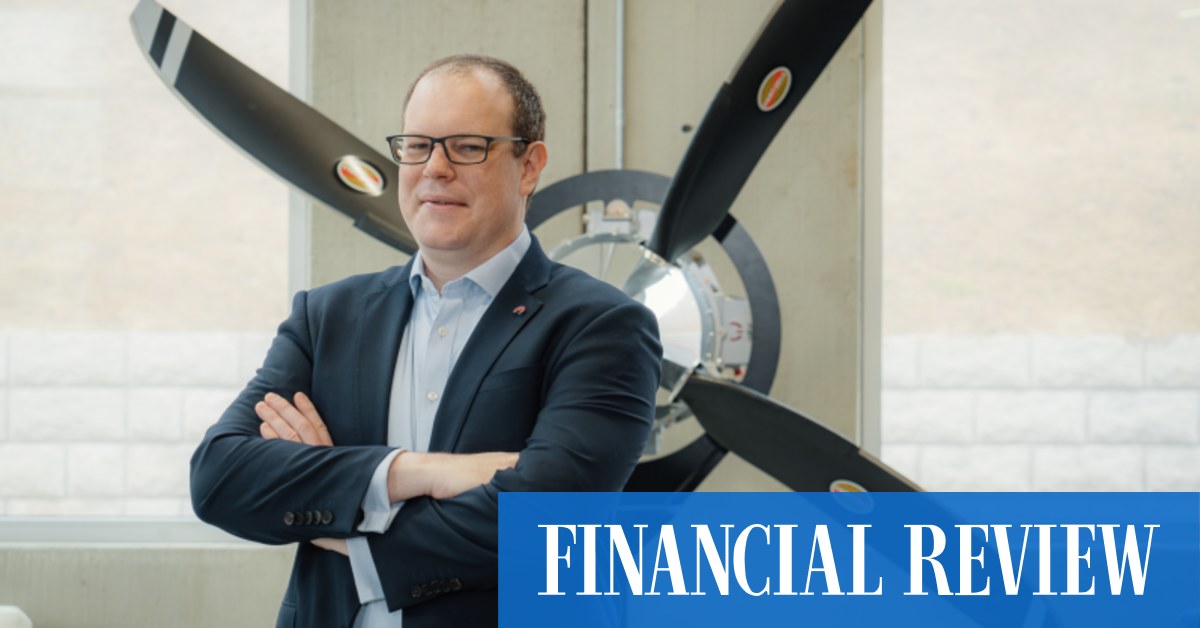 MagniX supplied the electric propulsion system for Eviation Alice
"This [Alice] is unique in a number of different areas. First, it's the biggest all-electric plane to fly. Second, it's the first of this size to be designed from the ground up to be electric. It's not a retrofit, the whole airframe has been designed to take advantage of the benefits of electric propulsion.
Decarbonizing aviation is a gigantic task. As battery technology is not yet capable of powering the large freighters who sail the world's oceans, no one expects the large commercial planes that carry hundreds of people at a time to go electric anytime soon.
Major airlines like Qantas, British Airways, United Airlines, Singapore Airlines and Emirates are focusing more on finding low-carbon fuels that can power their jets without forcing a big change in fuel tanks and other equipment.
"Battery technology is not going to support an all-electric 737 [commercial aircraft] at any time in the near future. I think that's a pretty safe statement to make," says Sercombe.
"Although I'm a little optimistic about the technology. I like to see the possibilities for the future. It all depends on the time frame you are looking at.
"For bigger planes, we're going to be looking at more electrification – so in other words, it's not a full-battery electric plane, but, you know, more and more electrics are going slip there, and perhaps a hybridization. .
"I'm waiting for this [by] By the end of this decade, we're going to start to see the take-off, pun intended, of electric aviation.
Alice eclipsed the 2020 flight MagniX took part in at the same airport, where a nine-seat Cessna Caravan was fitted with an electric propulsion system.
Like many of the world's leading aviation and aerospace companies, MagniX is based in the northern suburbs of Seattle. Yet many of its employees speak with Australian accents.
It's a legacy of the company's origins on the Gold Coast, where it was known as Guina Energy after its founder Tony Guina set up a company in 2005 that aimed to design lighter, more powerful engines.
The company moved to the United States in 2017 and renamed itself MagniX.
The most advanced in the world
It used superconducting technology, permanent magnets and a unique closed-loop liquid-based motor cooling system to create a powerful, lightweight motor that can operate at altitude, putting it ahead of the pack for airlines that want to go electricincluding several in Australia.
MagniX will supply the propulsion systems to dovetail electric aviation, a joint venture created last year by Rex Airlines, Sydney Seaplanes and the Spanish company Dante Aeronautical.
"MagniX, to our knowledge, is the most advanced manufacturer of electric aviation motors in the world today and the closest to certification," said Dovetail co-founder Aaron Shaw, who is also managing director of Sydney Seaplanes.
The benefits of flying with an electric motor and battery are analogous to those enjoyed by motorists when switching to an electric vehicle; planes are quieter, emit less greenhouse gases and are cheaper to operate in the short term because fuel is eliminated.
Shaw believes they will also be cheaper to run in the long term as they will last three times longer, delaying normal motor replacement cycles.
But Shaw said Zero Technology that electric motors will initially cost more to purchase and that there will be other trade-offs as well.
"The weight of the batteries is going to reduce the payload or the range of this plane compared to a fuel plane," he said.
"Jet fuel has about six times more energy per kilogram than the best battery technology we have.
"It's a pretty big change in mindset from the point of view of the pilots and the operation of these planes; the weight does not change throughout the flight, you do not burn anything.
"A lot of planes have a maximum takeoff weight and a maximum landing weight, and they can be different because you're expected to reduce your weight in flight.
"What that means is that when you certify an aircraft for battery-only flight, you may need to brace the landing gear as well as part of that process."
Alice only flew eight minutes on September 27, but Sercombe says doubters shouldn't assume that was her full lineup. "Certainly he is capable of more," he said. Zero Technology.
"This flight profile was intended to demonstrate the handling aspects of the aircraft, confirming from our end that the propulsion system behaved exactly the same in the air as it did on the ground."
Customers of MagniX's technology – and electric planes in general – tend to be owners of small planes, such as the ones Sydney Seaplanes uses to ferry tourists on joy flights, or the small planes Rex uses to fly to regional cities.