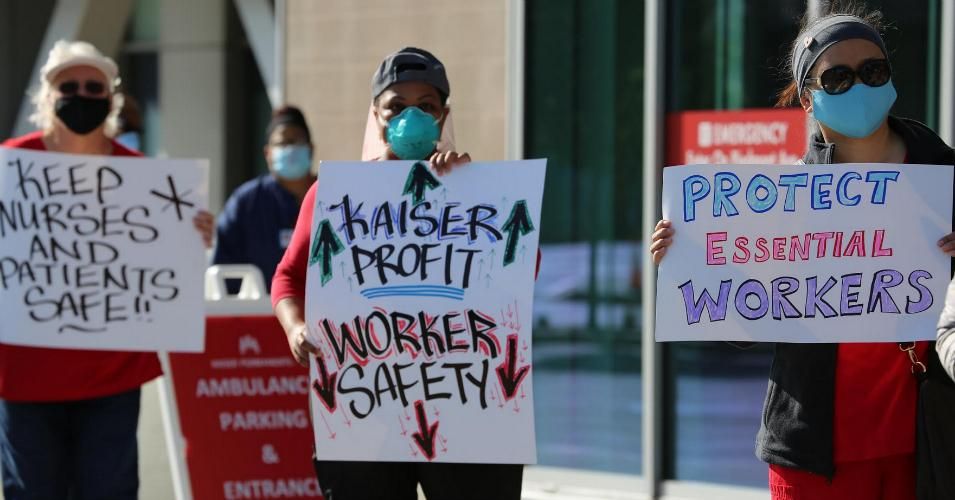 National Nurses United urges Biden administrator to crack down on hospital monopolies
National Nurses United, the largest union of registered nurses in the United States, is calling on the White House to strengthen federal antitrust investigations and rules to reduce the harmful effects of healthcare mergers and acquisitions on patients, workers and communities.
"Consider any healthcare mergers or acquisitions, especially hospital acquisitions, as anti-competitive."
President Joe Biden recently ordered the Federal Trade Commission (FTC) and the Department of Justice (DOJ) to update their guidelines on horizontal and vertical mergers, which influence how regulators analyze potentially anti-competitive deals. As part of the review process, the agencies listened to and accepted public testimony and comments until Thursday.
In comments submitted earlier this week, NNU's Senior Regulatory Policy Specialist, Carmen Comsti, wrote that "anti-competitive behavior in the healthcare sector through market consolidation is a threat to health and the safety of nurses and other healthcare workers and makes our patients sicker."
The "monopoly power of employers," Comsti said, "exacerbates health care access and affordability issues" for the public. For nurses and other health care workers, she added, it "depresses wages and dilutes the power of workers to advocate for better working conditions and patient safety."
The FTC and DOJ, Comsti wrote, should "presumptively view any healthcare merger or acquisition, especially hospital acquisitions, as anti-competitive."
In her hearing testimony, Kelley Tyler, a member of the NNU and registered nurse at Mission Healthcare in Asheville, North Carolina, described how conditions at her community hospital deteriorated after the acquisition of giant HCA Healthcare.
"Services like rural cancer care and wheelchair and seat clinics have been cut completely," Tyler said. "HCA has closed primary care clinics and driven out hundreds of doctors and nurses. Our most vulnerable populations have suffered, especially the elderly, who are often forced to drive over an hour for needed care. "
HCA, Tyler continued, has "raised its hatchet to charitable care, geriatric services, security, and even hospital chaplains."
"We believe HCA is using its market dominance over western North Carolina to drain our healthcare system and then send the profits back to Wall Street executives and shareholders," she added, imploring the FTC and the DOJ to "amend…procedures regarding mergers and acquisitions." to protect communities like Asheville from companies like HCA."
NNU, based on detailed comments from Comsti, elaborated on its concerns in a statement released on Thursday.
According to the union: "Traditional distinctions between vertical and horizontal mergers have largely evaporated due to the abuse of market power by large health systems. The integration of corporate financial interests in different types of health institutions and their control can incentivize interference with the professional judgment of practitioners and reduce the autonomy of practitioners.
Quoting Comsti, NNU said that "the role of private equity ownership and its 'strong tendency…to focus on short-term profits, maximize returns paid to investors and minimize liability in funding ventures. Leveraged buyouts "have harmed patient outcomes and safety."
NNU urged the FTC and DOJ to pay particular attention to the "deleterious effects of private ownership in health care," which Comsti said "is particularly damaging and even deadly." She pointed out that healthcare facilities owned or operated by private equity firms tend to have "lower staffing levels, higher care prices and higher medical debt for patients."
A report released last month highlighted the growing presence of the private equity industry in the home healthcare and palliative care sector.
"Health care market concentration is strongly associated with huge increases in predatory pricing practices by insurance companies and other payers and in hospital costs," NNU noted. This contributed to "a national scandal over medical debt and…causing up to 40% of Americans to ignore needed care due to escalating costs."
According to NNU, two-thirds of hospitals now belong to multi-facility systems, up from 37% in 1994. An NNU report published in 2020 found that US hospitals charge patients more than four times the cost of care, on average. The highest burden-cost ratios were observed in hospitals belonging to multi-facility systems, the vast majority of which are run by for-profit corporations.
"Healthcare market concentration is strongly associated with huge increases in predatory pricing practices."
NNU explained on Thursday that "conglomeration is increasingly seen when an acute care hospital system acquires or merges with medical practices, home health agencies, telehealth service providers, outpatient clinics, homes nursing homes, skilled nursing facilities or other post-acute care facilities".
The union pointed out that this "frequently leads to reductions in inpatient services as well as higher prices for care", resulting in "the increased shift of necessary care work to unpaid family carers or unlicensed aides, rather than to RNs and other professional caregivers".
Following public testimony last week, FTC Chairwoman Lina Kahn mentioned that "as many of you have told us, sometimes cost reduction can be achieved at the expense of quality of care".
On Wednesday, the Centers for Medicare & Medicaid Services (CMS) released Data on mergers, acquisitions, consolidations, and ownership changes at Medicare-enrolled hospitals and nursing homes from 2016 through 2022 — the first time this information has been made public.
Echoing NNU's analysis of the harmful effects of mergers and acquisitions, CMS Administrator Chiquita Brooks-LaSure mentioned in a statement that "the consolidation of hospitals and nursing facilities leaves many underserved areas with inadequate or more expensive health care options."
Comsti, for his part, has also pointed out that market consolidation is weakening the bargaining power of RNs and other healthcare workers over employment conditions, lowering wages and leading to dangerous staffing levels.
In addition to harming patient safety, she said, "intentional understaffing, lack of health and safety precautions and other poor working conditions have alienated nurses from nursing care." at the patient's bedside.
To limit the damage associated with healthcare mergers and acquisitions, NNU urges the FTC and DOJ "to expand antitrust review and other guidelines by reviewing past buyer practices, such as higher fees for payers and patients, hospital closures and reductions in patient services. , negative impacts on independent hospitals and public healthcare facilities, past anti-union behavior and degradation of patient privacy and data sharing. information with technology companies.
"These additional measures and remedies in the M&A guidelines," the union said, "can protect patients, workers and communities."