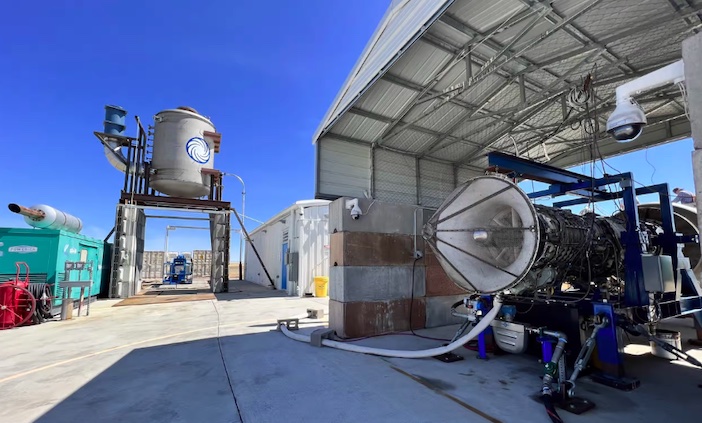 Reaction partners with the US Air Force to test air-breathing engine technology
UK-based Reaction Engines is testing its high Mach breathing engine technology with the US Air Force.
The testing campaign, which began last week, aims to expand the performance envelope of Reaction's propulsion technology, in particular the thermal management technology. The program will validate Reaction Engine pre-cooling technology so it can be used to upgrade current-generation fighter jets to travel at speeds in excess of Mach 4.
') } // –>
The precooler reduces the temperature of the air entering the motor at high flight speeds, preventing overheating and allowing the air to be used as an oxidizer
The new test campaign aims to build on the success of the previous HTX jet precooler test program by significantly increasing the delivered air mass flow rate and other test parameters, resulting in a three-fold increase in transfer of total energy through the motor. heat exchanger.
The test points provided for the FCT tests were selected to be characteristic of the integration of Reaction Engines thermal management technology with jet engines.
Andrew Piotti, Head of Engineering at Reaction Engines US, said: "The exciting outcome that I look forward to over the next few weeks is the validation that our technology could enable today's jet engines to operate from liftoff to at Mach 4 and beyond.
The US team at Reaction Engines has made steady progress since contract award in mid-2021. The tripling of the forecast thermal load triggered the need for several system upgrades at the company's TF2 high-temperature test site at the Colorado Air and Space Port and the team quickly progressed through all stages of design and integration of new hardware.
"Our unique ability to achieve relevant high Mach propulsion test conditions in the field really allows us to move forward quickly and affordably," observed Dr. Adam Dissel, President of Reaction Engines US, "I'm so proud Innovation and drive evident in this combined Reaction Engine and Government team and I know they will continue to operate now that the heat is on!"
The program is funded by the Department of Defense's Foreign Comparative Testing (FCT) program and supported by the Air Force Research Laboratory (AFRL).
William Reed, Director of the US Air Force FCT, said, "The FCT demonstrates the United States' commitment to a 'two-way street' for defense procurement with allied and friendly nations. Reaction Engines technology is world-class and a perfect fit for the FCT program.
Reaction Engines was founded in 1989 and developed its SABER (Synergetic Air-Breathing Rocket Engine) to operate in two modes. From liftoff to Mach 5, while still in the atmosphere, the engine draws in air like a conventional jet engine, to support the combustion of hydrogen fuel.
Once above the atmosphere, SABER switches to classic rocket mode and uses the liquid oxygen (LOX) stored on board. The engine's air breathing characteristics reduce the amount of heavy LOX a launcher must carry.
---
Related stories
Reaction Engines spin-out will develop device to use ammonia as jet fuel
Getting ready: Reaction Engine test program moving forward