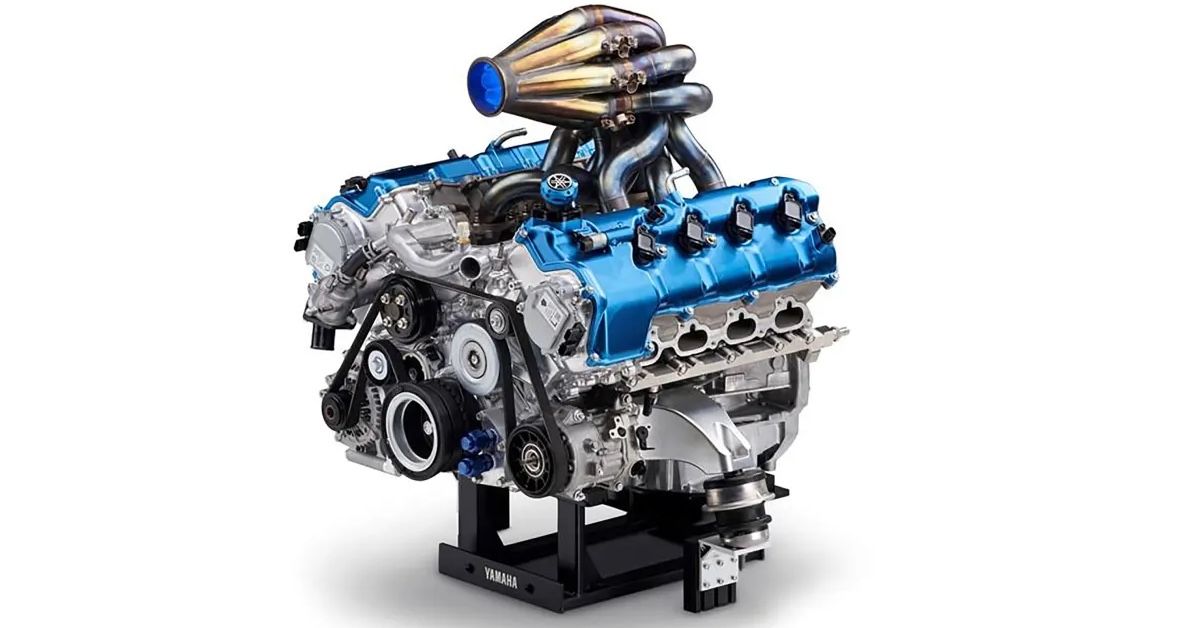 Why Yamaha is developing a 5.0-liter hydrogen V8 engine for Toyota
While combustion engines have a soft spot for enthusiasts, that emotion hasn't quite translated to other groups of people. We are at a point where internal combustion engines are under intense scrutiny from regulators. Witness a slow but steady elimination.
It's not like the IC engine is dead. Oh no, not yet. You still have high-capacity engines powering everything from commercial airlines to lawn mowers. It's just that their days are numbered.
California very recently passed a law banning gas-powered lawn mowers. Several other movements around the world are urging automakers to switch from fossil fuels to other sustainable alternatives.
Amid all of this, we have some good news, courtesy of Japan. Toyota has partnered with Yamaha on a quest to discover the possibilities of hydrogen mobility. We've seen this happen in the past, with fuel cell electric vehicles being sold, albeit quietly, alongside their electric-only counterparts.
Well, this movement is very different. A gesture that makes the enthusiast in us all giddy and excited.
We are talking about a hydrogen internal combustion engine. And it's not a tiny four-cylinder. The engine in question is a 5.0-liter V8. Here's more on that.
Hydrogen internal combustion engine: Toyota and Yamaha team up again
Do you remember the Lexus LFA? Toyota's flagship supercar featured a high-revving naturally aspirated 4.8-liter V10 developed in conjunction with Yamaha. The latter was heavily involved in tuning the car's acoustics, giving the V10 its characteristic exhaust note.
Fast forward to today, and they're teaming up again to make hydrogen combustion engines. Interestingly, Yamaha said the 5.0-liter V8 engine would be based on the one used in the Lexus RC F. In testing, Yamaha managed to extract 450 horsepower and 398 lb-ft of torque from the hydrogen engine; figures very close to the gasoline-powered Lexus coupe. This comes courtesy of modified cylinder heads, injectors, intake manifolds and several other components.
A Yamaha R&D spokesperson had some positive things to say about the engine. The powertrain has easy-to-use performance characteristics and also proves to be quite vocal. The hydrogen V8's top-mounted eight-into-one header is said to give off a harmonic high-frequency exhaust note. It may not top the sonic drama of Yamaha's V10 masterpiece, but we're sure the team won't disappoint.
RELATED: Petrolheads Rejoice: This Internal Combustion Engine Has Zero Emissions
Hydrogen ICE: there are other actors
Burning hydrogen in a combustion engine instead of gasoline or diesel is not a new idea. BMW has already produced the Hydrogen 7, a version of its 7 Series flagship with a hydrogen V-12 combustion engine.
Chinese automaker GAC also recently announced that it is testing a hydrogen combustion engine, although it is unclear if the engine will reach production. Yamaha is also partnering with Kawasaki in joint research into hydrogen combustion engines for two- and four-wheel applications.
Joseph Cyril Bamford (JCB), a key player in heavy machinery, has developed a hydrogen internal combustion engine as a zero-emissions alternative to electric vehicles and fuel cells.
Currently, JCBs run on diesel. By modifying the engine slightly, the engineers were able to run it on hydrogen. The modification, as Chief Engineer John McCarthy pointed out, involves modifications to the cylinder heads. This was implemented primarily to accommodate the transition to spark ignition from compression ignition.
Also, significant engineering was done in the emissions department. One of the inherent disadvantages of a hydrogen ICE is the production of various nitrogen oxides or NOX. The engineers found a clever way around this problem by running the engine on lean, and it worked.
RELATED: Toyota Still Betting on a Hydrogen Future with the GR Yaris
Hydrogen ICE: the obstacles are many
As good as it sounds, hydrogen is not yet a practical solution. Firstly because hydrogen propulsion is still in its infancy. On top of that, electric vehicles are becoming a trend, and more and more government incentives are favoring electric over hydrogen. Which means that widespread adoption could still take time.
Also, hydrogen filling stations are not as popular as charging stations. In fact, California is the only place in North America where hydrogen vehicles can be practical. Of the odd 39 hydrogen stations across the country, 35 are located in California. Then there is the problem of storage and transport. The costs, at least now, are not worth the effort.
As you can see, using the idea has its fair share of problems. That said, hydrogen engines can be a viable solution once the initial hurdles are overcome.
From a consumer perspective, electric vehicles are generally on the expensive side of the spectrum. Batteries use rare earth minerals, and availability will only decrease over time, leading to increased costs.
Not only will a hydrogen-powered car be emission-free, but it's likely to be priced between an electric vehicle and a gasoline-powered car, making it a great alternative. Provided the concept gets enough traction.
Sources: CNBC, Top Gear, Carthrottle
Hydrogen gets $1.1 billion boost from Hyundai
Hyundai, like a few others, believes hydrogen is the fuel of the future.
Read more
About the Author